New Adult Contemporary Romance
Synopsis:
After I finally get the evil witch at the front desk to hand me my room key, I head for the shower. I was supposed to shoot my best friend's wedding alone, and I couldn't wait to escape New York and Nick.
Yeah, he's beautiful, sexy, and completely charming-but he's stealing my clients. He's done so much damage that I'm going to be lucky if I can keep my studio open for a few more weeks. This wedding means everything to me, and I refuse to let a spoiled brat and his shiny new MBA put me out of business. Screw that.
But then I find myself wearing nothing but a smile when the person I hate most walks through the door to my hotel room-Nick Ferro. Two adversaries, shooting one wedding, and sharing one room for one
week-what could possibly go wrong?
My review:
I received a complimentary copy of this book for an honest review and let me start by saying: "Aaaaaaah!"
This book contains all the essential elements that continue to make H.M Ward my favourite author: beautiful characters (have you hugged a Ferro today?), tons of sassy smart-assy funny comments, improbable and unpredictable predicaments (say that 10 times fast!), sexy scenes filled with anticipation... but most of all, H.M. Ward has the ability to bring her readers into her world as if were there along with the characters, feeling every little bit of emotion her characters are feeling (yes, I cried!). Whenever you pick up an H.M. Ward book, you feel like you're visiting with a good friend.
I first fell in love with her books and characters through "Damaged" and "Damaged 2". "The Wedding Contract" is remeniscent of why I loved them so much. Very funny, heartfelt and with the perfect amount of sexy. Skylar (or Sky), her main female character has it all: smarts, quirkiness, determination, strength yet fragility... she is very relatable and I LOVE HER! As for Nick... *swoon*... what can I say other than: He's a Ferro. He's beautiful and he's broken, like all his other relatives. Every Ferro man is broken in their own beautiful way and Nick is no exception. I was curious as to how his character would stand out amongst such strong characters as Sean, Peter, Jon and Bryan. Nick is his own kind of Ferro and I love him to bits (don't worry Peter! I haven't forgotten you... a girl never forgets her first Ferro!). The chemistry between Sky and Nick is delicious and the confrontations are spicy!
Technical stuff: STAND ALONE BOOK. Contemporary new adult romance (characters in their 20's). Told in the first person from Sky's POV (present tense). Sexuality. It took me 5 hours to read it.
H.M. Ward is the #1 bestselling New Adult author in the world, having sold over 4 million books in 2013. This NEW YORK TIMES, WALL STREET JOURNAL, USA TODAY, and Amazon #1 bestselling writer's series include: THE FERRO FAMILY: DAMAGED, THE ARRANGEMENT, and STRIPPED; as well as SCANDALOUS, TRYSTAN SCOTT, and SECRETS. Ward was recently featured in FORBES, the WALL STREET JOURNAL, and the WASHINGTON POST.
You can interact with this bestselling author at:

http://www.facebook.com/AuthorHMWard

. Don't want to miss a release date: Text AWESOMEBOOKS to 22828 and get an email reminder on release dates.
a Rafflecopter giveaway
About the Ferro family books:
This is a Ferro Family story about Nick Ferro (a.k.a. the OTHER Ferro cousin, Bryan's brother). Other Ferro Family titles are
Damaged
(Peter Ferro Granz),
Stripped
(Jonathan Ferro),
The Arrangement
(Sean Ferro) and The Proposition (Bryan Ferro). You don't have to read the other Ferro Family books to get into The Wedding Contract
but if you like H.M. Ward's books, you may want to read all of them (see note on suggested reading order below). The Ferro Family books are contemporary "new adult" romance stories involving characters mostly in their 20's (college aged women & slightly older men).
Reading order:
Although each series is stand alone & can be read in any order, if you are planning on reading all of the Ferro Family books, I recommend reading them in the order they were published (see below) to avoid any spoilers from one series to the next since they cross-over at multiple points in the timeline.
However, if your afraid of confusing characters and plots by constantly switching from one series to the next, you may want to read the series in this order: Damaged, The Arrangement, Stripped, The Proposition, The Wedding Contract.
Books in order of publication date:
The Arrangement 1-4
Damaged 1
The Arrangement 5-7
Damaged 2
The Arrangement 8-9
Stripped
The Arrangement 10-11
The Proposition 1
The Arrangement 12
The Proposition 2
The Arrangement 13-14
The Proposition 3-4
The Wedding Contract


Ferro Family Tree:
(yes, I know, I know! There was an updated version of the family tree included in the bonus material material at the end of The Proposition 4. As soon as that image is made available for sharing, I will replace this older one with the updated one!)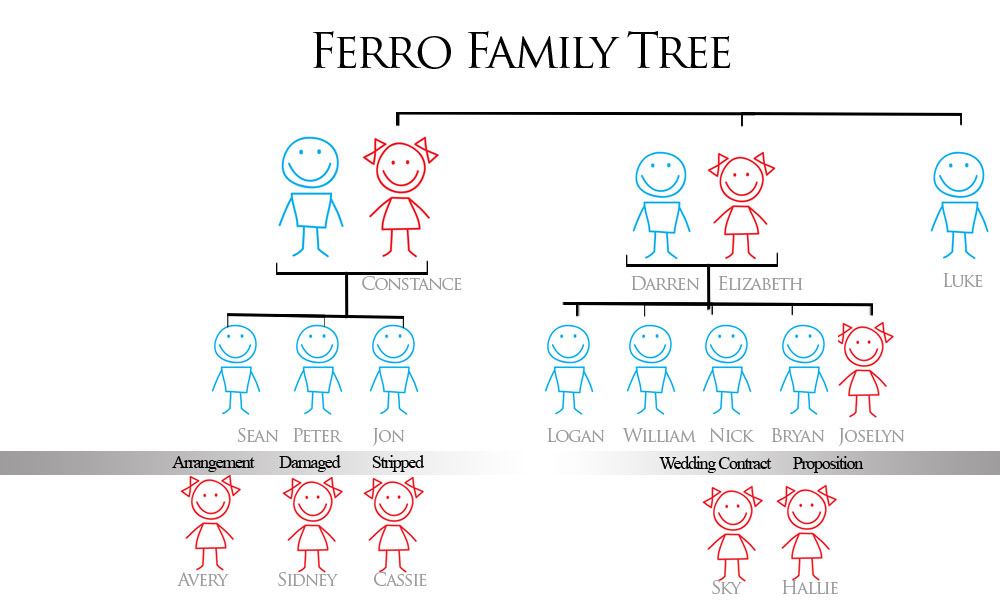 Screen adaptation update:
H.M. Ward is working hard on bringing the Ferro Family story to the screen. It's looking like it may be a web series. Here are some current updates, as per H.M. Ward herself on her Facebook page:
"HUGE things are going on with the Ferro clan. A TV/ Web series is coming. Im helping with it to make sure the characters are awesome, & to give more insight into their lives. it'll b awesome!!! Plus more, that I can't say yet.!" - May 9th 2014
"There's a script being written about the FERRO guys right now. It's pretty good too. Im impressed and nothing impresses me. Damn good script writer. Can't wait for that."
- May 2nd 2014
"Calling all actors and singers - here's your big chance! I'm looking for new faces. Make a demo reel, upload it to your site. youtube or whatever, and get ready. Casting calls will start soon for THE ARRANGEMENT. BE READY!" - April 2nd 2014
Ferro Video Teasers:
THE ARRANGEMENT:
HERE'S A LINK TO A FACEBOOK POST ON H.M. WARD'S PAGE TO A THIRD FERRO VIDEO:
https://www.facebook.com/photo.php?v=752768551428906
Songs in Ferro teaser videos:
If you want to purchase the songs featured in the Ferro teaser videos, here are the links:
Hungry, by Saints of Silence (on iTunes):
https://itunes.apple.com/ca/album/hungry/id387236466?i=387236637
A Girl Like Me, by Dream Valley Music (on CD Baby):
http://www.cdbaby.com/cd/dreamvalleymusic#.U2UHdQAb21U.blogger