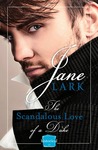 I was pleasantly surprised. I'm not used to reading historical fiction written by contemporary authors. I was worried that it would come off as cheesy, but it didn't. I thoroughly enjoyed myself.
He is a handsome Duke, she is a milkmaid's bastard child. She has always loved him, he becomes obsessed with her. Their story has ups and downs and twists and turns. Social standing and expectations become an obstacle to their true feelings. He has major inner conflicts to resolve and she is resigned to live the lot life has handed her. Drama and steamy romance all around. Sound a bit cliché? Maybe, but it had the desired effect: swoon!
I loved the romance. Every woman needs to be wooed by a beautiful, obstinate Duke once in a while. I liked Katherine. She is a strong, smart and selfless character, always trying to make decisions based on what is best for the people around her, even though it may not be the best thing for her. John is very conflicted, angry and beautiful (I know, I keep coming back to his looks, but, c'mon, that's the whole point of swoony historical romances right?).
The Scandalous Love of a Duke
is book 3 in
Jane Lark
's Regency romance series but it is a standalone book. I haven't read the first two but I just may pick them up for light summer reading. It is a historical romance with sexually descriptive content. It is told from a dual point of view (the Duke and Katherine).
Synopsis:
Isolated by life and choice, John Harding, the Duke of Pembroke, sees an angel in a pale mauve dress across a ballroom and is drawn closer.
The wheat-blonde hair escaping her dull dove-grey bonnet caresses her neck and lures his eyes to the spot he'd most like to kiss.
Then as if she senses his gaze the stranger turns and looks at him…
"A rush of pain and longing spilled from Katherine's heart into her limbs. It was so long since she'd seen John but her reaction was the same as it had been more than half-a-dozen years before. She loved him, secretly, without hope, but a chasm of years and status stood between them."
THE SCANDALOUS LOVE OF A DUKE is book three in Jane Lark's Kindle best-selling Regency romance series.